Aspire Zelos 2.0 Kit

The Aspire Zelos kit has been a huge success globally and is still loved by its many daily users. Following the overwhelming success and feedback from the original comes the new upgraded version.Introducing the Aspire Zelos V2.0 Kit - your go to device for MTL and Hybrid Sub Ohm Vaping.

The all new Zelos 2.0 kit builds on the positive features of the original, whilst improving many aspects to create a much more solid, practical and user friendly experience.
The Nautilus 2S Tank
The Aspire Zelos 2.0 features the all new Nautilus 2S tank which has also been improved over the original to make the perfect MTL / Hybrid tank.
New Filling System
New easy top fill system. Simply screw and push the child proof system to reveal a generous fill port to refill the tank. No more unscrewing the bell top and creating potential for leaking and damage to the seals. Such a simple idea but one that will make such a massive difference to all Nautilus fans out there.
New Coil Change System
You no longer have to remove the glass and lose any E-liquid when a coil change is needed. A new system has been fitted to the base of the unit meaning your coil can be extracted, leaving your juice still in the tank and exchanged in seconds without ever spilling a drop.
New Airflow controller
The new airflow system gives even more options to MTL users for dynamic tight draws to more relaxed and open. In addition to that sub ohm / hybrid users can enjoy a more open airflow that delivers awesome vapour production and flavour especially when paired with our new 0.4ohm Nautilus BVC coil.
New 0.4ohm Nautilus BVC coils
Our lowest ohm Nautilus coil to date pushing the boundaries of MTL - Sub Ohm further than ever. Rated between 22 - 28 watts this coil when paired with all other features will make one hell of a vape for its user.
The Zelos V2.0 Mod
The new Zelos V2.0 mod retains the look and feel of the original whilst being improved in terms of reliable build quality and user friendliness.
The Zelos 2 Mod has an all new USB charging port that is more durable than the original. The Screen retains the awesome 0.69 inch OLED of the much loved original whilst improving firmware to improve how user friendly it is.
Featuring Zelos quick select keys you can easily skip through different modes, engage child lock, go into stealth mode or switch the device off completely.
Charging speed has been marginally improved whilst the USB port itself is now tougher and durable than ever before.
Additional extras
The Zelos V2 Kit is available in 3 different colours. Aspire have removed the original red and replaced it with an dazzling Midnight Blue.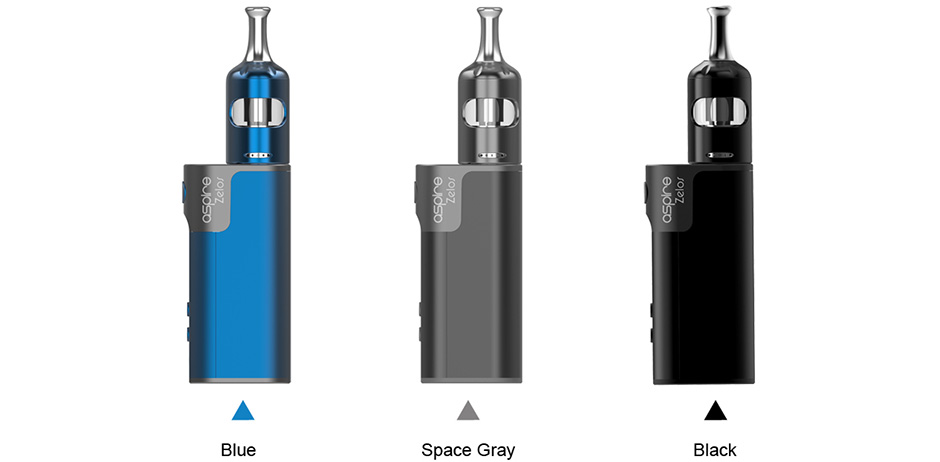 The Aspire Zelos V2.0 Kit also ships with 2 drip tips that are completely different to suit your style of vaping. One is long and thin stainless steel, more suited to MTL, whilst the other is shorter, frosted and has a wider bore for the Sub Ohm users out there.
The kit also contains a spare glass, a number of spare O-rings and both a 1.8 Nautilus BVC coil and the all new 0.4ohm BVC coil.
---
We Also Recommend